June 25, 2010
Can I actually have a granddaughter that will be one year old on Tuesday? How did I get this old? How did SHE get this old? And so quickly, too. We leave in the morning for Ohio. Taking along the puppy I am fostering for Triangle Sheltie Rescue.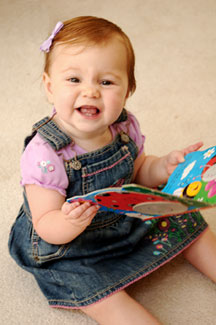 The puppy has been a little ray of sunshine in my life, except for the erratic accidents on my throw rugs. I have never washed so many rugs in my life!
It's been 15 years since I have raised a puppy. And it's been 30 years since I had a baby in my house. It's different. Maybe serendipitous that both happened about the same time.
Lilly is such a happy little girl. Her smiles light up the world.
The puppy (whom we temporarily names Milli because she is so tiny like a millimeter or a millisecond) lights up other people's worlds. They adore how sweet she is when I take her out on a walk or to PetSmart.
A bit nervous about heading into my ex-husband's "territory." It was after we moved to Ohio (yeah, like two days after we moved!) that he asked for a divorce. It wasn't pretty. And it wasn't the first time he'd done it either. Yep, we got married and divorced twice. The second time worked. We found better matches elsewhere.
But when you have kids, divorce doesn't mean "I'll never see you again." It may mean "I don't WANT to see you," but the first grandbaby … well, all that old stuff  disappears temporarily. At least I hope so.
Anyway, I am sitting here letting my hair get back to its original color (OK I know I am not supposed to say that out loud) while the puppy sleeps and I catch up on a few blog posts.
Back on Wednesday – wish me luck with the puppy, the ex, the baby and the rest of the relatives!